Blondie
Member
since 08-06-99
Posts 307
Ohio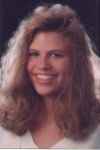 ---
Have you ever felt unhappy
Because, nothing went your way?
Have you ever cried inside
And thought, 'today is not my day'?

Have you stepped in puddles
And wondered, are they tears or rain?
Thrown something at your wall
And thought, what is making me insane?

I don't know what to say
It's such a dismal day
And I don't have the urge
To play in the rain

Maybe I'm unhappy
Maybe I'm not content
Maybe there is no answer
With all the time I've spent

It's possible I'm not mad, when I look at you disdain
When something bad happens, it only begins a chain
But it's better to smile, than live in pain
If you want the rainbow, you gotta put up with the rain....