Denise
Moderator
Member Seraphic
since 08-22-99
Posts 23002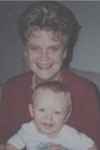 | | |
| --- | --- |
| 0 posted 08-22-99 05:32 PM | |
---
To mY nephew on graduating from The Restaurant School!!

Some day you'll be a chef - world class
Preparing Pheasant Under Glass;

Fine Cordon Bleu and Lobster Tail;
Perhaps a dish of gourmet snail;

Most succulent Filet Mignon;
The airiest of pies chiffon;

From far and near they'll come to dine
On tasty morsels - choicest wine

And to the chef pay compliment
For such cuisine magnificent!

Remember as you bake and baste
No goal's achieved with ease, in haste

So don't lose heart along the way
You'll make the grade, you'll have your day!

Now...as you strive to hone your skill
...don't burn my burgers on the grill!!

Congratulations, Scott!!