Seymour Tabin
Member Empyrean
since 07-07-99
Posts 32119
Tamarac Fla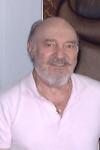 | | |
| --- | --- |
| 0 posted 08-22-99 07:24 AM | |
---
Sir Brewster Poe.

My parrots name is Brewster Poe,
Every morning he says hello.
He knows very well how to talk,
But each morn he will always squawk,
The loud echo of the cocks crow.

COCK-A-DOODLE-DOO, calls Brewster,
This his parrots echoing booster.
Like an actor upon the stage,
Puffs his feathers in a rage,
And he CROWS the morning rooster.

He is a mimic of first rate, BUT
He is surely toying with his fate,
If this parrot knew how much I
HATE his roosters take off touch,
He'd STOP this quaint orate.

When Sunday comes our day of rest,
He does not crow or repeat this jest.
We treat each other with respect;
It has a soothing effect,
It's one of the seven best.

But LORD, I know not how Poe knows,
Each Monday, LOUD and CLEAR he crows.