Colin
Senior Member
since 06-05-99
Posts 612
Callington, Cornwall, England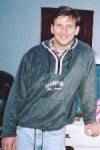 | | |
| --- | --- |
| 0 posted 08-19-99 06:10 PM | |
---
I lie on my bed to write
Yes,
the same bed
where I lay
so many times
for so many hours
as I talked on the phone to you.

I rest my head on our pillow
which softly cradled your head
as we made love
so long ago
on that bittersweet Sunday morning.

I don't know what I will write
or
even how much
yet write I must,
though you tell me it's forbidden
just as our love

So
eyes closed
heart and soul open
guiding my pen
I free my mind and write.
Am I inspired?
Perhaps.
Is inspiration as blind
as my two closed eyes?
Do my closed eyes
let my heart see you
once more?

My mind sees you
as my pen rambles blindly on
eyes opening only to check
for the start of the odd new line
just as you did once
in one
of the many poems
we penned for each other:
poems to push away
poems to draw together
poems of joy
and sorrow
and lonliness
and closeness
and passion.
All facets of that thing
we call love.

I pause as I turn the page
pause and look out the window
listen to the soft purr of the wind
sighing through the trees
and think again of you
running
laughing
smiling
through the pines that night
as we went to explore the beach.

It's raining now
(a sudden squall)
and I'm back
once again
on the patio
under the stars.

You pulled the strings on my coat
and
with that one simple act
an act of faith and love
pulled the strings of my heart
bound them
eternally
to you.

Eternally
Forever
that's a long long time!

You tell me you're surprised
surprised I love you still
after all the pushing
the doorslamming
the pain
yet inside
you know
and you know
I will be there
for you
if you wait a month
or six
you know

Though you're scared
scared to hurt me
scared to "keep me hanging on"
you know.