Seymour Tabin
Member Empyrean
since 07-07-99
Posts 32119
Tamarac Fla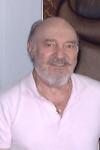 | | |
| --- | --- |
| 0 posted 08-19-99 12:34 PM | |
---
Quietly

In the quite of my house,
Heeding humming from my spouse.
I sit in reminisce a kiss,
A long ago moment's bliss.

In coat of tweed and blowing hair,
She came to me in nippy air.
I stood a curb quite bare of tree,
Just the parking meter and me.

It was a sort of deja vu,
As she came into view.
And I could have surely swore,
I knew her from some where before?

But that is neither here nor there,
She was an answer to my prayer.
She took my arm with grace and charm
That was to me the final balm.

Oh yes, that kiss, that moment's bliss,
That endless kiss, I reminisce.
It was a kiss, that was to stay,
And she hums quite near today.