Seymour Tabin
Member Empyrean
since 07-07-99
Posts 32119
Tamarac Fla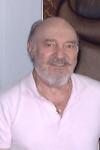 | | |
| --- | --- |
| 0 posted 08-19-99 08:38 AM | |
---
My Camelot

The moon shines down upon the trees
And lights milk white the dancing leaves.
Tuned to a lilting age-old lay;
Once more to Camelot I play.

I'm drawn into the smell of rose,
Into court sounds, as eyelids close--
Allegiance sworn to Authur's might
And Guinever's soft-beauties light:

Time-honored quest of Holy Grail,
With Galahad and Percivale,
Sirs Urry, Bors and Lancelot;
Fair chivalry with ne'er gain's lot.

Round table's fellowship of knights,
One hundred ten by honor's right:
The jousting fields of blooded sand--
My fantasy of twilight land.

Dream's rue, a brew, a sort of coup--
Doing all that I cannot do.
Who would not be king for a day?
Ruling over all that he may?

From reverie or ruse or scheme,
I glean each wonder of my dream;
The moon, the leaves, the tune, the plot;
My chariot to Camelot.