Seymour Tabin
Member Empyrean
since 07-07-99
Posts 32119
Tamarac Fla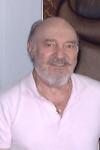 | | |
| --- | --- |
| 0 posted 08-17-99 06:32 PM | |
---
She Sleeps

She lies like dead upon the bed,
Alive the land of things unsaid.
Sleeping the ebb and flow salon
And the dawn has come and gone.

I fear her state of near yet far,
Her mind to long in Shangri-la.
Held to hard to the non aware,
I question time and is she there?

Alone she lay so sweet and still,
In rest her body needs to fill.
Yet still she shows no sign of wake
And do I dare the slightest shake?

Will she excuse the rude intrude?
Or will it cause vicissitude?
In tender love I vacillate?
I love her, no matter the state.

My love to wake or not to wake?
My love to shake or not to shake?
I think I'll wait a little more
And then I think I'll SLAM THE DOOR.