Blondie
Member
since 08-06-99
Posts 307
Ohio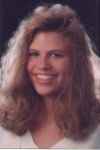 ---
I wake up to a new morning, a shade lonelier than the day before.
Endlessly grasping at emptiness, I desperatly kneel to the floor.
Pain fills my heart as the sounds of anger floods my racing mind.
Words I could have refrained from speaking, words that were unkind.
Retreat is no longer an option, I have spoken and the words have stained.
Erasing the Love I once knew and writing in the emotions that now pains.
Torn by temptation to ask for forgiveness, but the words have already spoiled.
The fabric of unity has been shredded and the purity is now soiled.
I can only shout in silence, as I lay my heavy head back to rest.
Memories of the past, is the only forgiveness I have, at best.