Seymour Tabin
Member Empyrean
since 07-07-99
Posts 32119
Tamarac Fla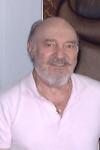 | | |
| --- | --- |
| 0 posted 08-15-99 08:19 AM | |
---
Creation

Disaster forms an order,
From firmament and water, In this soup grows myriad spawn
And from this soup I was born.

Change the sculptor of the lot,
Change the magic of whatnot,
Fosters life in many ways,
As centuries move like days.

We, a wink, a flotsam dot,
Living for, I know not what,
Waits an answer of a sort,
Before we to are sought.

It matters not how we feel,
It matters not how we deal,
Only the change of order,
Drinks this disaster's water.

It really makes no difference friend,
The end, is the end, is the end.