Michael
Moderator
Member Ascendant
since 08-13-99
Posts 6333
California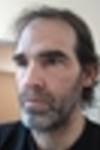 | | |
| --- | --- |
| 0 posted 08-15-99 03:02 AM | |
---
THE SAME

Roll the sanctions of midnight dawn
With penury of soul.
The chastisement of all hope spawn
Upon the caracole.

The spiral staircase wafting its way
Auspiciously through that black cloud.
Twisting, turning, never discerning
The embellishment of a shroud.

For my love, alone, stands next to none,
As there's none you wouldn't have before me.
And the golden chime of Death doth rhyme
A mystery ever to implore me.

The obscure thoughts of a brain that rots
Reaching their inept pinnacle.
O'er the fireplace of emblazoned grace
Upon the mantel, a hollowed skull.

A trophy in sort, the grim retort
Of what is and what will never be.
Solely enshrining, death intertwining
Forever, you and me.

For I, alone, may never see
Beyond the shadows of idle dreaming.
And I, alone, may never hear
Beyond my own silent screaming.

And I, alone, may never feel
The hungers hidden in a touch.
And I, alone, never again may hold
A memory I'll always clutch.

But I, though wounded, won't retract
Or forego on what I hold ideal.
And I, though blinded, won't look to
What's Destiny's, alone, to reveal.

And I, though deafened, would not call
In vain-thy thankless name.
For enamored Fate with Time relate
To Death, we are the same.