Tara Simms
Senior Member
since 08-12-99
Posts 1285
Honea Path, SC USA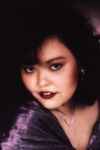 | | |
| --- | --- |
| 0 posted 08-14-99 01:41 PM | |
---
If we could go back in history
Where would we go? Who would we be?

To the ancient days of Greece
Where immortals reign supreme
Mystical beings abound,
Nymphs living by the stream

Back to the days of the Trojan wars
The face that launched a thousand ships.
Temples to the gods and goddesses
That mere man worships.

Bodies swathed in cloth,
Hanging in seductive folds
History unwritten
Many stories yet untold.

Which pair of lovers
Would describe us?
Which ones would we be?

If I were Eurydice
And taken into hell
Would you fight for me?

Would you storm down to Hades
And demand my return?
Can you withstand the heat
Of the fires that always burn?

Do you dare defy him?
The one who rules the underworld?
How much would you sacrifice
To get back your girl?

My dear sweet Orpheus
You were given but one chance
You did not have faith and patience
The rest is happenstance.

We know the tragic ending
To this loverís tale
Upon his gruesome death
Her name was what he wailed.

These two lovers we would be
United in death, our destiny.
******

I need some help with a title, I don't like the one I have. Any suggestions?