Seymour Tabin
Member Empyrean
since 07-07-99
Posts 32119
Tamarac Fla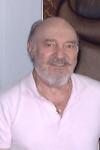 | | |
| --- | --- |
| 0 posted 08-13-99 04:19 PM | |
---
Damn there back

Spirits ride across my sleep
Turn my head to mal de mer.
Stampede accented passions,
Spirited phantoms ride there.

Rob my rest like a common thief
And will not spare me quiet time.
They trample me with hooves of grief,
Raise clouds of past and former crime.

Demented faces in moonlight,
Ignite the fires of unrest
And I lay in a sweaty fright,
The sight of ghosts in crest.

Each phantom a fiery story
Spouting the fumes that dragons blow.
I wait in a purgatory,
Just waiting for the flames below.

I damn the ghosts' their nagging cries,
All that I've done this life lies done.
Where are the ghosts of their demise
And the phantoms that they have won?

I ask you demons, spare this host
And let my mind a dreamless reap.
And I will face you ghost to ghost,
When comes my true demise to sleep.