Seymour Tabin
Member Empyrean
since 07-07-99
Posts 32119
Tamarac Fla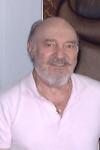 | | |
| --- | --- |
| 0 posted 08-12-99 10:57 AM | |
---
The Rooster

A rooster roamed about the yard,
And scratched and searched without regard,
His eyes were fierce and his crown blood red,
Of this henhouse he looked the head.

The day would wane, the night would shroud
And silence ruled the evening crowd.
And quiet reigned the evening through,
Until the earth revolved anew.

Before any could wake and know,
He'd mount the fence and loudly crow.
Yet not a hen would greet the day,
For this rooster, I think was gay.

But gay is not a crime per se
In truth it's just another way.
But the way does not compute and
It will not produce any fruit.

So if the farmer must recoup,
He must end up as chicken soup.