Blondie
Member
since 08-06-99
Posts 307
Ohio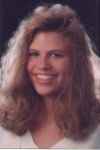 | | |
| --- | --- |
| 0 posted 08-09-99 07:58 PM | |
---
This is Las Vegas the "city of sin,"
It's here people visit in hopes they will win.
For some it's a blessing, others a curse
For some will leave wealthy, and some in a hearse.
Cause drinking is easy and usually free,
They'll keep serving liquor, until you can't see.
For some a sickness, brought on when you lose,
That adds to the anger, brought on by the booze.
We call it "the fever," it's easily caught,
Then outrageous fortunes are usually sought.
But this is Las Vegas, how soon we forget,
This town makes money, when you lose a bet.
Just looking at Vegas, it's easy to tell,
The number of tourists don't do very well.
They come here excited, to reap on the fame
And leave Vegas wishing they had never came.
But they'll be returning, cause everyone does
For a "sinful" good time, and a really bad buzz!