suthern



Member Seraphic
since 07-29-99
Posts 20770
on the threshold of a dream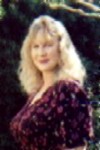 | | |
| --- | --- |
| 0 posted 08-07-99 11:52 AM | |
---
Shutting away the world outside
I run to you
Knowing I can hide
In the warmth of your music
Till it heals my soul
Sets me free
Of the fears untold
And restores my sanity.

When depression strangleholds my day
Your songs of sadness
Somehow, someway
Sooth away the darkness
From my troubled mind
And let me leave
The despair behind
When I dry the tears from my cheeks.

And when the joy bubbles out of me
Your songs of gladness
Set my spirit free
And keep it from hurting
That no one's there
To share the joy
And show they care.
You keep the loneliness away.

I always know I can turn to you
And your music will manage
To see me through.
So I come for comfort
Again and again
Knowing you'll stay with me,
Be my friend,
And give me your gift of song.