azblond
Senior Member
since 07-01-99
Posts 651
The Steamy Desert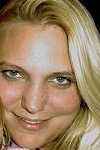 | | |
| --- | --- |
| 0 posted 08-06-99 09:32 PM | |
---


Searching along lifeís roads I finally found you.
Like a gift, I opened my eyes to see yours
So bright and blue, filled with wonder and awe.
I wrapped you inside the shell of my heart
And with your guidance, learned how to love.
I found what it is to give and expect nothing,
How to relish in the joy of anotherís happiness.
At times I have learned how much joy you get from the heartbreak of letting go.
I was taught through you the simple joys of life
Songs in the rain
Snowball fights in the bitter cold
Drinking warm cocoa with marshmallows on top.
You loved me when I first awoke in the morning
No make up or fancy clothes.
Often you were the first to kiss me hello.
Your smiles chased away any sadness in my heart.
I watch you sleep at night for the simple joy
Of hearing you breathing.
Before I met you I was a shallow person who thought only of herself.
You have shown me that I was never complete until the day you came my way.
You are simply the most wonderful gift in this life, or any other.
You are my daughter.


------------------
For sometimes when the Darkness falls, we must surrender, take what is ours, and give what we can, and always remember love is somewhere waiting...