suthern



Member Seraphic
since 07-29-99
Posts 20770
on the threshold of a dream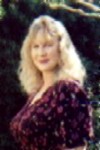 | | |
| --- | --- |
| 0 posted 08-03-99 08:52 PM | |
---
Thoughts of aging weigh me down
My great big feet just drag...
I just passed a full length mirror
And saw how my ass sags!
Boobs drifted deep south years ago -
Succumbed to cruel gravity.
My navel rests between the pair
To grace my pudgy tummy.
Deep crevices called wrinkles
Surround my lips and eyes.
And when did these barrels take the place
Of my once decent thighs?
If I sit too long, an aching starts
Within my lower back,
But if I walk, then each step brings
From one or both knees CRACK!
Without split ends and covered gray,
My hair would cease to exist.
The makeup doesnít even cover the flaws.
Iím not sure why I persist?
My disposition, once so sweet,
Has lost out to despair.
So stay put on those bar stools, guys.
I simply do not care!