suthern



Member Seraphic
since 07-29-99
Posts 20770
on the threshold of a dream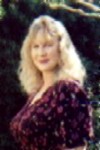 | | |
| --- | --- |
| 0 posted 08-02-99 07:07 PM | |
---
My feet feel the shudder as the engines surge to life
And the sounds of the city fade away.
I stand at the railing and feel your arms around me,
Your nearness making this the perfect day.
Your chin rests on my shoulder; your tongue teases my ear;
Your sweet lips whisper warm against my cheek.
Then someone bumps against me, reality intrudes,
And sudden sadness makes my knees go weak.
For only the sunís warmth caresses my face,
And the wind makes my breasts go taut with need.
I canít reach out and touch you; youíre much too far away.
I miss you, love, so much I cannot breathe.