Masked Intruder



Moderator
Senior Member
since 05-23-99
Posts 1412
Near golden sunsets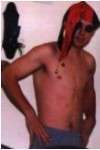 | | |
| --- | --- |
| 0 posted 08-01-99 12:55 AM | |
---
Night's dark mood casts black spectors
Throughout the enchanted realm.
A warrior dons, as if for battle,
Morning start, shield and helm.

Saddling dark mare, fiery spirited,
He rides out into hellacious din.
White robed sorcerers with hooded heads
Stand before demons, created from dark sin.

With a shout and clinking spurs
The warrior charges for the clashing.
Magic fringes battle field
As devils rush forward, claws slashing.

Collision unseen by mere mortals before,
Warrior meets monster in epic fight.
Morning star drinks its fill of blood,
Master swinging on through the night

Clearing away hordes of grisly beings.
Lightning strikes from cloudless sky
As paladin gauntlet glows with fury,
Ripping through demonlings who fight nearby.

Sorcerers raise their cloaked hands,
Summoning dark magic to bring the kill
Of one mere man who has conquered many,
Who fights with fury, and drives by will.

Stars swirl in enchanted frenzy,
Moving the earth and water's border.
Green light glows with mist approaching,
Moving the demons into fiery disorder.

Paladin stops short, morning star ceasing,
As a hush falls over his realm.
Silent death seeps over monster and demon;
Quiet reigns emperor, instilling its deathly calm.

Bodies lay thick as the magic approaches;
Black horse snorts angrily, but unmoving,
While Paladin watches as death draws near.
Green mist envelops the grand duo; killing.

Ten black sorcerers walk away in victory,
Knowing for certain their task has been completed.
Evil will own this now unprotected realm,
Since the great Paladin has finally been defeated.


------------------
Even with a lot of imagination, does it make the story less true?