Lost Dreamer
Member Elite
since 06-20-99
Posts 2589
Normal, Illinois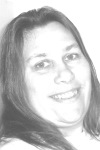 ---
Your Smile "(C)" Lost Dreamer 05/99

Your smile touched my face today
as the gentle breezes of nature
caressed my growing soul.
I find myself in awe
of your beautiful landscape
every glorious minute.

I thank you for my senses
for they allow me to be mesmerized
by your creative hand.
I thank you for my knowledge
that through my faith in you
I will always be safe.
You've given me so much
my thanks will never end.

I give to you my whole being
that through me
your smile can radiate
all whom I encounter.
As each day my soul
grows stronger with your spirit,
likewise your smile
will be ever more present.