JP
Senior Member
since 05-25-99
Posts 1391
Loomis, CA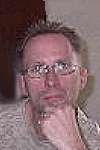 | | |
| --- | --- |
| 0 posted 07-25-99 04:06 PM | |
---
Entering at dusk,
through back doors ajar,
calling for you
hoping for your reply.
Groceries, newly bought
sit upon the table
amidst dishes, and papers
empy Bud bottles and butts.
Kitchen smeared with grease
more dishes scattered about
I call your name again
louder this time.
I study the room saddened
knowing this is how
the old and lonely live.
I notice a carton of milk
opened, warm, but still fresh,
sickening pit in my gut
tells me that all is not right
calling you again
my eyes peering through
dimming light.
Past the photos on the mantle
grandkids, children, long gone
I turn and see you sleeping
in your favorite easy chair
I call once more though I know,
that you cannot answer
nor greet me as before.
Slowly I go to the phone
911
"no, no ambulence is necessary"
Now just a wait
in the other room perhaps...
tell the coroner my tale
of finding you.