Sunshine
Administrator
Member Caelestus
since 06-25-99
Posts 67715
Listening to every heart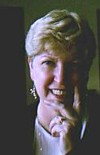 | | |
| --- | --- |
| 0 posted 07-20-99 05:14 PM | |
---
During a course of being inbetween
and trying to find a path I could walk alone,
across my way came a man, a lover, a bard
all rolled into one being, one force, not cloned.

Recalling those days of yesteryear
all he did was hold me dear
and raise up for me a mirror
so that I could find myself.

At that time I was naive enough to know
he had the power to let me go;
but briefly in his darkness and despair
he allowed me his world to share.

We shared McKuen over cool wine
and his words so fluid infused my mind
with a hold so smooth, so like a web
I recall there was love, but nary dread.

An enigma he called me, while it was he
who stood before this lass, his mystery
he held in his hand, his touch, his embrace
and all of it I knew he meant for me.

He wooed me knowing I would be alone
without him as time went by.
We were two lovers for a brief moment
and for my memories I cannot cry.

His deepness, his darkness, soon they not lifted me up
although his soft side was sent with flowers in a cup
for tea, as I know it was meant to be
for he knew with my lips I would sup.

He was that way, knowing, kind and withdrawn
until those moments we touched
and he filled me with his song
ah, the memories over twenty years long.

Soon in his desolation he sent me away
knowing that I could not stay
for his darkness swift came back upon
him, and sadly, silently, we lay.

Our parting was tenderness incomplete,
for who would leave love still sweet
and warm, and as if leaving a part of myself.
Tonight McKuen comes off the shelf.