azblond
Senior Member
since 07-01-99
Posts 651
The Steamy Desert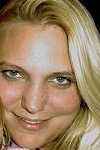 | | |
| --- | --- |
| 0 posted 07-18-99 05:10 AM | |
---


As I walk down my hall
I stare at the masks on the wall
Wondering which shall I choose
To face the world today?

The clown with the smile in place
Without a frown to mar her face
Is that the one I should pick
To make me presentable?

Or the jester to make them laugh
Complete with the joker staff
Will I be acceptable
If I am funny?

The beautiful details of one with a gem
Should I show this mask to them
To dazzle all with radiance
Such complexibility to share?

Or how about the lady with a tear
Show I can reveal my fear
And still remain confident
When I face the world?

So many masks from which to choose
Which will win while others loose
How can I decide who to be?
I stop and face left

Looking I see the perfect fit
A mixture of them all in it
Dazzled I am to recognize
My own face in a mirror.


------------------
For sometimes when the Darkness falls, we must surrender, take what is ours, and give what we can, and always remember love is somewhere waiting...