Balladeer
Administrator
Member Empyrean
since 06-05-99
Posts 26302
Ft. Lauderdale, Fl USA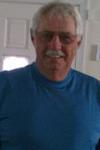 | | |
| --- | --- |
| 0 posted 07-16-99 06:58 PM | |
---
The little german couple on Cherry Lane
Ran a tiny grocery store
And had a cottage down on Main
With welcome mats at their front door.

At that time I was only four
But I still hear his hickory cane
Beat rhythms on the hardwood floor
That echoed down through Cherry Lane.

When times were hard and money tough,
More that one unlucky man
Would find his groceries on the cuff
As they smiled,"Pay us ven you kann".

They raised a garden full of flowers,
And were not rich, but rather poor,
Yet we all knew, at any hour,
That kids were welcome at their door.

And then, one day, the store burned down.
How very clearly I recall
Their saddened faces as the found
The broken panes and smouldering walls -

And swastikas upon the gate
Of their small cottage down on Main,
Emblazoned with bold strokes of hate.
How I still see their look of pain!

And, though we hated what we'd done,
How could anyone explain
That, in that year of 'forty one
The war had come to Cherry Lane?