Masked Intruder



Moderator
Senior Member
since 05-23-99
Posts 1412
Near golden sunsets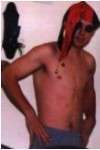 | | |
| --- | --- |
| 0 posted 07-14-99 12:57 AM | |
---
One times one

The clock ticks the hour on the wall,
It's lusty dong marking the end
Of my long shift, my daily duel.

One times two

I dispatch myself from the whitecollared workplace
Along a city street not quite empty
For something more sanguine, more involved.
I discover laughter,
A deep throbbing beat that shakes a city block,
And a brisk smooth drink
That lightens my senses
And overloads my memory
With nothing more than this fuzzy sensation.

Two times three

I stumble blatantly out into dawning sunlight.
Sharp pains darting through my iris,
Straight through my retina,
On through my brain,
And into the beating,
Pulsating,
Rhythmic torture
In the back of my head.

Three times four

I'm counting two more fingers than I should have
Looking through them as I focus in front of them

Four times five

As the minutes tick
While I drive completely without error
Down that not so empty city street

Five times six

Those years disappear
As I take them one by one
From someone who worked hard to earn them,
Who loved them as dearly as her children.

Six times seven

Lonely years I spend in a concrete hell
Created by the people for the people.

Seven times eight

Lifetimes of regret and disdain
I hold heavily in my soul

Eight times nine

Hundreds of people whom I have hurt
More than myself;
Who watch me everyday,
Stare at me,
Point and laugh at me,
Mock me for what I truly am.

Nine times ten

Millions of lives I have yet to touch
As I struggle to tell them
What common sense should;
As I prevent one more life lost,
One less soul
Torchered by its own self inflicted pain.

Ten times forever

I will accept my fate of purgatory
And deny nothing to redeem myself.