Sally S.
Senior Member
since 06-07-99
Posts 887
Ohio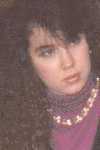 | | |
| --- | --- |
| 0 posted 07-13-99 12:47 PM | |
---

Maddy was a friend of mine,
Had vast stories to tell.
I'd visit her from time to time
And listen to her well.

On afternoon I rang the bell
To her apartment here in town,
Eager for her to cast the spell..
(See, her stories are renown.)

She opened the door, invited me in,
Greeted me with such a smile.
Embraced her as if she were kin,
Then settled in for my while.

She started off her delightful tale
As she offered me some tea....
'Bout adventures on a mountain trail
Back in the spring of '53.

She wove her words so gracefully
And told of a gallant man,
Who saved her from catastrophe
On the outskirts of Sudan.

I hung on every word she spoke,
Not noticing the hour.
As the story ended, her spell broke,
To my watch I gave a glower.

I thanked her so for the construe
As I held her once again.
She said "I've something here to show you."
And motioned me to the den.

She gathered a photo from the shelf
And placed it in my hand.
Twas a picture of a young Maddy herself,
In the arms of a handsome man.

"That, my dear, is my husband Ed...
The man who rescued me.
Ten long years in eternal bed...
He passed in '83."

I saw the mist fill her eyes
as she replaced the photo with care.
She walked me out, we said our good-byes
As my heart felt a little tear.

Some time had past before the choice
Came for another visit.
Tapped on her door, an unfamiliar voice
Replied to me, "Who is it?"

I asked if Maddy was around.
She said, "I'm very sorry, dear."
"The woman passed 3 weeks ago now,
I'm just the landlord here."

I found the spot of Maddy's final rest,
A beautiful place near a flower bed.
Upon her grave, written on a crest
States... "Reserved for Maddy and Ed."