Masked Intruder



Moderator
Senior Member
since 05-23-99
Posts 1412
Near golden sunsets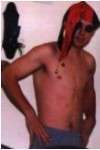 ---
Spewing forth words onto this blank slate,
Filling it with my thoughts and my emotion;
Fingers racing, feelings unrolling,
Knowing, imagining, wishing
That you were here to listen, to love.
Lady liberty watches over me
As I employ my free tongue to its own ends;
Crying into the midnight sun,
Howling like a lost dog, longing for companionship.
The ocean floor falls to the sky
As my world is turned upside down by loneliness,
By love and love not, by want and want not.
I upend my cup of life, draining at the dregs,
Sucking it for all it's worth,
And ask the Bartender for another.
I implore Him for just one more swallow,
Just one more sip,
And all the while stare at my shaking hands
Holding an empty glass.
The cup of life that held all my dreams,
All my aspirations, and all my inspiration.
I, alone. I alone know nothing but what I knew,
But who I knew, and miss her greatly.