azblond
Senior Member
since 07-01-99
Posts 651
The Steamy Desert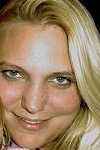 | | |
| --- | --- |
| 0 posted 07-10-99 06:02 PM | |
---
It's the Quiet Ones in the End……

She swept up the glass with teary eyes
Tried hard to muffle her sobbing cries
She'd done something to anger him so
What difference did it make if she didn't know?

She heard him stagger to the bed
So quietly she sat and read
Then jumped quickly as he came
Angry that he'd called her name

His words like thunder to her ears
Giving in to all her fears
Sometimes she wished he would just hit
Then it would be over, that would be it

His words cut deeper than any blow
And she never knew what would cause it so
She lived her life as a timid mouse
Afraid to step foot outside the house

But that didn't do, it was never enough
He'd warn her it's time for her to get tough
Until finally she heard the words he said
Pulled back the trigger and shot him dead.


------------------
Let my words fall first upon deaf ears before a closed mind...