azblond
Senior Member
since 07-01-99
Posts 651
The Steamy Desert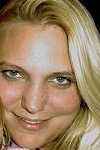 ---
The Lament of Callie and Sabrina

"She is different from us so just walk away
What ever could someone like her have to say?"
Sabrina thought her words went unheard
But Callie took inside of her every word

Sabrina was the pretty one, loved by all the rest
She had the brand new car, she was so finely dressed
Callie was the outcast, the one who do not fit in
So here is where we start the tale, now I must begin

Sabrina had the boyfriend, the group of followers too
Callie just watched from outside, planning what to do
She had been the victim of torment for so many years
Sabrina got high on bringing poor Callie to tears

But Callie was a beauty in her own special way
And she knew where Sabrina's boyfriend was on this day
She knew how to be a temptress, she'd practiced late at night
Sabrina's little man, he didn't put up a fight

The two became entangled in a grown up lovers game
Callie knew Sabrina would never look at her the same
The day finally came for Callie to announce what she did hide
She carried Sabrina's boyfriend's child, she was to be his bride!

Enraged Sabrina screamed at them atop a very high hill
Then she lunged at Callie and pushed with all her will
Poor Callies body went tumbling and landed without a breath
Sabrina had pushed Callie to her very death.

Now murder is the charge she faced, not for one- but two
Remember inside Callies body, a baby there grew
She was sentenced and taken away to the state pen
How different her life was now from what it had been

Victims of circumstance, from childhood cruelty
Lives were ended on that day, not one or two, but three
For the poor boyfriend whom we never shared his name
He the innocent player in a heartless game

When he lost his baby, he could take no more
He simply lost the will to live, on life he closed the door
The moral of this story somewhere here is true
There are always innocent victims for all mean things you do.


------------------
Let my words fall first upon deaf ears before a closed mind...