azblond
Senior Member
since 07-01-99
Posts 651
The Steamy Desert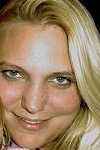 ---
It Should Be Me

Does she say
"I love you"
I said it
And it was true
I guess the only difference
Is that you love her too
Do you hold her closely
And tell her that you care?
It used to be me one time
Who made you stop and stare
Does she attract
Your longing eyes
The way I did
Before the lies
We're so much the same
Except you see
When you're with her
It should still be me.


------------------
Let my words fall first upon deaf ears before a closed mind...