Masked Intruder



Moderator
Senior Member
since 05-23-99
Posts 1412
Near golden sunsets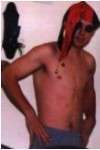 | | |
| --- | --- |
| 0 posted 07-09-99 11:06 AM | |
---
One score minus three years ago
On a not so warm winter day
I decided to appreciate the world
Instead of that warm bag
I'd called home
For eight months and nine days.
I couldn't see for almost ten years
Not the literal sense of the word
But the kind of seeing
That actually means something
In this world of hate and sadness.
I couldn't see past my own
Little whims, my own fancies,
My own beautiful stallion,
Or my own fifteen acres of freedom.
And one day my parental unit
Of the male persuasion decided that
I no longer needed all that I loved,
All that I had grown up with
However blind I was.
And so we gave away my own
Little whims, my own little fancies,
Sold my own beautiful stallion
For two hundred worthless and unwanted dollars
And traded my own fifteen acres of freedom
For a one acre lot in the centre of suburbia
Where my wanderings and ponderings no longer
Held any meaning to my blind and passionless
Heart, soul, eyes, whatever it was that made me see
That I was nowhere that I wanted to be
And nowhere that I could live.
And so I entered a world that disconnected
Me from life, introduced me to deeper feelings
Which had no special meaning to anyone but me,
That I could write on a piece of tree that
Had been flattened into an eight and a half by eleven
Piece of parchment with a root dye squeezed into
A plastic blue pen with a round tip on the end.
I painted fantastic stories of worlds where
No one belonged but myself and my horse,
No one except for my dog and the sunset,
The moonlight and the snow,
The sweetgrass fields and the evergreen trees,
And I lived there withdrawn from myself
But no longer the world,
The world where I could live in passion and surrealness,
Where friends were considered rare and desireable.
And then my parents decided to upgrade my mode of life,
To give me output with downloads and uploads,
Processors and modems, internet sites and chatrooms,
A place where I could meet people like myself,
Unavoidably creative, spontaneous, and not so withdrawn
As I used to be.
My little world expanded,
It became something more than surreal,
Something impossibly real,
Where I was my own self and
My own little whims, my own fancies,
My own beautiful imaginary stallion,
And my own WORLD of freedom
Were at my fingertips with the click of a button
And the sweep of a mouse
To send out my free verse thoughts
And passionate feelings into a universe
Of readers and thinkers that actually cared.
And I matured beyond all expectancy,
Gained knowledge that I never imagined,
More than a library of books could impart
Into this crazed and not so crazy oblivion
Some like to call my brain.
And I sigh and think of my own little whims,
My own fancies, my own beautiful stallion,
My fifteen acres of freedom,
And think,
Yeah, I would've traded them for this;
This happiness I've found,
These friendships I've made,
This new world I've encountered,
And this new life I've made.