azblond
Senior Member
since 07-01-99
Posts 651
The Steamy Desert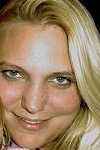 | | |
| --- | --- |
| 0 posted 07-09-99 01:59 AM | |
---
Little Girl Blue

Little Girl Blue, please donít cry
Though I cannot explain for the life of me why
Your life so young has known too much pain
I only want to see you find happiness again

The cruel world has been so hard on you
I know all too well why youíre Little Girl Blue
Just trust my words that it must get better
Dry your eyes before mine get wetter.

I donít know why your Daddy has gone
I dare not explain why Mommy couldnít go on
I donít want to make promises I cannot deliver
But it breaks my heart so to see your lip quiver

Iíll lend you my shoulder to dry your tears
Iíll do my best to ease your fears
Just know Iím here, Little Girl Blue
Once in my life, I was that little girl too.


------------------
Let my words fall first upon deaf ears before a closed mind...