azblond
Senior Member
since 07-01-99
Posts 651
The Steamy Desert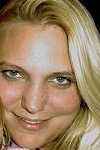 ---
Look at Me

Look at me…tell me what do you see?
A broken image of who I used to be
I used to fly high on wings all my own
I never feared sharing the things I'd been shown
But now I'm afraid to speak out aloud
I shy away from friends and the crowd
My voice once pure of assurance and ease
Now has grown silent in the battle to please
I could stand tall and walk with my head held high
Now my shoulders shake from the tears I cry

Look at me…see what I've grown to be
A victim of your own insecurity
When you were low you took me with you
Not allowing me to appease your feelings of blue
It was easier to hurt someone you love
Than allow her to help you rise above
Now I wallow in shame of what I've become
Trying to remember how I became so numb
You used to be proud of me at one time
I never knew pride could be such a crime

Look at me…see my final fall
I'm feeling how hard it is to crawl
But I remember who I was once before
I remember a time of feeling I was more
I'm struggling to stand on my own two feet
And you tell me I need to be more discreet
But remember that was who you said you loved
Before kisses gave way to being shoved
Discretion is not silence to who you are
Loving is not pushing someone way too far

So look at me…watch me walk away
I see how much I loose if I stay
And the battle back may be rough
But I've finally had just enough
So look at what you made me do
I finally see your love's not true
I now will walk instead of hide
And finally dry the tears I've cried
Stretch my wings to let them heal
Look at me…I still can feel.



------------------
Let my words fall first upon deaf ears before a closed mind...