Sunshine
Administrator
Member Caelestus
since 06-25-99
Posts 67715
Listening to every heart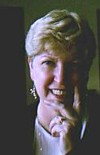 | | |
| --- | --- |
| 0 posted 06-30-99 11:27 AM | |
---

Yesterday a hundred moons ago, give or take a cloudy night
I met you by happenstance, not knowing things would turn out right.
My first thought, or was it woman's intuition?…
Was "if he gets under my skin, I'll never get rid of him".
Oh Lord, what amazing insight.

You thought you walked on water then, and I laughingly chided you wrong.
But when you brought me to Kansas, you showed me that
It IS in a different realm to which you belong.
For the skies were clouding in Illinois, and Missouri too
You said "when we reach Kansas the clouds will part". Go to Chapter Two.

The clouds did part, you took my heart, and my brood along,
You said you would marry a woman who would carry
Herself with no burden, but again you were in the wrong.
You took the kith, you took the kin, you took them in your arms
Can you walk on water? If not, you nonetheless have great charm.

Throughout the days, the nights, the years, you bore the burdens
Of wedded life not always well, it's true.
But you are uncommon and therefore properly laden
To commitment and its condiments too.
Tis why my love twill not be soon fading for the likes of you.

The upheavals, the quiet times, the moments never forgot
The softer times, the gentle conversations, possessions that cannot be bought.
The ultimate changing of bodies, of minds, and physical chemistries too
Commitment reigns over all, and maintains my love for you.

Early in the relationship, we each knew where to find "the door"
For individually we had failed at the marriage challenge before.
Failed? Maybe that's the wrong word, we knew what we were in for
And the partner we were with at that time
Could not have lasted the test of time, nor space, nor commitment more.

And baggage? Oh, we still carry the hurt of the past from the previous mate
So that when moments or circumstances intervene, we each wonder at our fate.
I continue to marvel at your presence, that you would still be here with me
As I am not an easy one to deal with, as you well know
For I am a dreamer with fantasies, and you refuse to be my beau.
But you are nevertheless my lifelong mate in time and always will be, I know.

So to you, my love, I'll not give flowers nor praises or lasting love divine
For this is not in your countenance, although it be in mine.
But what I give you is true affection, trust, knowing I'm by your side
Through thick and thin, through His Plan, through Heaven's gate so wide
I'll love you for all time.