Lost Dreamer
Member Elite
since 06-20-99
Posts 2589
Normal, Illinois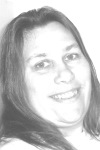 | | |
| --- | --- |
| 0 posted 06-30-99 07:07 AM | |
---
Mind Still Focused

Steering wheel in hand
eyes fixated on path
mind focused to every detail.
Detour ahead
mind still focused.
Knows the route so well
nothing can distract.
someone right behind
wants to pass you
car coming other way.

Slowing down bump in road
no more street lights
on your own.
Dark and dreary
tree lined streets.
Mind still focused.
Can't retreat now
halfway there.
Large creature entering road
brakes applied no where to go.

Bridge ahead must pay toll
no change found
empty purse.
Turn around
find alternate route.
Mind still focused.
Back to center
long way around.
Snow starts falling
whitening ground.

Four wheel drive will get through
cars stuck everywhere.
Glistening branches
ready to break.
Up,up,up,
have to go
no other way.
Mind still focused.
Whiteout on top of hill
can't see other side.

Nearing destination
five miles left to go.
Tree uprooted
sitting on house.
Roads slippery
needs some sand.
Two miles left
seeing headlights,
there to close
over yellow line
on my side.