Colin
Senior Member
since 06-05-99
Posts 612
Callington, Cornwall, England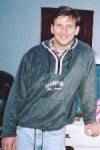 | | |
| --- | --- |
| 0 posted 06-30-99 04:54 AM | |
---
Snorting
stamping
straining
eager for battle
dappled, mail clad, charger thunders into view
in clouds of billowing steam
spurred on by master's passion
rearing
turning
awaiting battle.

He pauses
grudgingly
tense from rider's fire
shaking snowy head
awaiting battle.

Sir Knight
suited in plates of steel
cloaked in whitest silk surcoat
holding ivory shield,
emblazoned with gilt wings of an Angel
dips his lance
to flame haired princess
receiving her token
freely given
then smiles
as he spurs his mount
onwards
awaiting battle.

Black Knave
armored in trickery
shielded by cunning words
rides slowly forward
awaiting battle?

The Champion
chuckling softly
turns his back disdainfully
returning to his love's side
and says softly
"MY Lady
I need not soil my lance
with his foul blood
for the battle for thy heart
was won long ago.
But know thee now
shouldst need arise
I, servant and champion
am here
awaiting battle."