Sunshine
Administrator
Member Caelestus
since 06-25-99
Posts 67715
Listening to every heart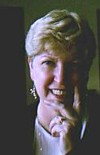 | | |
| --- | --- |
| 0 posted 06-28-99 03:34 PM | |
---

It is silly and trite to say you were born
For how else would you ever be here
Even though I thought you a miracle
And bore you with grateful tears.

And trite also the words that you grew and grew
And I struggled mightily to know the real you
As you went from childhood to teen to young woman
The drift between us became a chasm between two.

Stubborn? Oh, how you broke my heart
When at 18 you "knew best" and "it's time to part".
And I tried to comfort myself, that it didn't matter
But foolish me, you are still the daughter.

A child having a child, you were not aware
Of the heartbreak you brought, and without a care
And said "yes he is the father, but I love him not"
I knew in my heart this wasn't what you were taught.

Pressure I did for you to marry the man
Shortly before the innocent babe was born
I knew I had to take this harsh but correct stand
Capitulate you did on this fervent command.

I think you tried, though heaven knows
You grew away, although the child in bows
Was presented to me as "grandmother dear"
And "I'll never keep her from you, never fear."

Was it just us, my daughter, you and me,
That couldn't foresee yours, or my, destiny?
I care now for the child of yours with blood of me
Wondering as you drift along in your "doom" of free.

To wonder at your of wanderlust, you thinking you know best
To leave your child at her father's chest
And leave me with thoughts about what really mattered
But even now, you're still the Daughter.

You should know I pray for you, although I cannot condone
All of the wrongs you have done throughout time.
I will capitulate now, and thank you for leaving
In my care, for me to share, with this granddaughter mine.

For she is now the Daughter.