Sunshine
Administrator
Member Caelestus
since 06-25-99
Posts 67715
Listening to every heart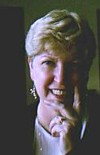 | | |
| --- | --- |
| 0 posted 06-28-99 02:13 PM | |
---

Morn came on quickly with
the twinkling of soft chimes
he had set in the trees, just for her.

A sunny day, it appeared, after
days and days of cloudy skies;
she knew he loved her, of that she was sure.

She listened, quietly, to the soft chime
and thought of him, so complex,
so without reason or rhyme.

She knew she would try to
temper her thoughts
and not be the shrew

He sometimes thought her to be.
She wanted his love, but
queried, "who is 'me?'"

And she thought, pensively, that
he took the time
to hang the chimes.

Not that he wanted to stifle her thoughts;
Not that he didn't love her true;
Not that he thought he did anything wrong

But she knew.

She knew him, inside and out
his fears, his jealousies, and insecurities too
and kept wondering, what to do?

Many years of sacrifice, just
to get to know the man
and daily she wondered

"Does he even know who I am?"

But she thought to herself
he took the dear time
to hang the sparkling chimes.

So this February day, knowing there
Would be future days with him
she sighed, and got out of bed,

Knowing that the chimes
Would be consistent with the times.
Forever and always.