Sunshine
Administrator
Member Caelestus
since 06-25-99
Posts 67715
Listening to every heart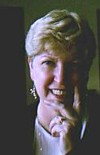 | | |
| --- | --- |
| 0 posted 06-28-99 01:48 PM | |
---
The tragedy still haunts me, and I hope I am not redundant in sharing my thoughts with all of you at my new "home."

Oh you children of the earth
we prayed to keep you at the hearth
but you left for school today
God keep you safe, we prayed.

Darkness lurked among the laughter
blackness now forever after.
We shall never forget the plight
that took the sunshine from your life.

Oh children of the cold cold earth
never again safe at our hearth.
Love was not strong enough to restrain the fear
you must have felt as danger neared.

Our love for you will forever be known
in new efforts our love will be shown,
As we now try to live without your smile
our steps will become weary, mile after mile.

We cry that anger brought you to this
that things have gone wrongly amiss,
that your dreams have gone along with you
we pray the hatred should take this cue.

So now people, pick up the light
take this tragedy, make it right;
Hold your children close to your breast,
and clean the hatred from this mess.

Take your morals off the shelf
put them back in your heart and soul.
For if the parents don't learn from this sad song
then tragedy will continue to take its toll.

**

To the Children of Littleton, Colorado. May the Lord bless and keep you in his light.


To my new acquaintances, please be honest with your editorials. Thank you. Sunshine.