Sally S.
Senior Member
since 06-07-99
Posts 887
Ohio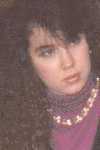 | | |
| --- | --- |
| 0 posted 06-27-99 06:27 PM | |
---
...for a little deer


He approaches silently, straight toward the pin.
Not noticing the crowd pondering the mood that he's in.
He places the ball in just the right spot.
As he prepares to make..the perfect shot.

Steady in his stance, gripping the club just right.
Hardly a breeze for the moment to give him a fight.
A hush from the crowd as he pulls the club back,
With a whoosh, strikes the ball with a firm, familiar whack!

A gasp from the crowd as it flies through the air,
And floats to the ground seemingly without care.
Applause all around as it rolls in his favor.
He smiles, tips his cap, this moment to savor.

Preparing the next shot and what does he see?
The ball four feet out and this a par three!
He walks all around measuring each curve and wave.
He knows the right shot, the smile he'll save.

Steps up to the ball, prepares himself once again.
Pulls back, then with a tap, the ball rolls right in.
The crowd comes to life with a thunderous sound.
He smiles, tips his cap, as he's off to the next round.