Sunshine
Administrator
Member Caelestus
since 06-25-99
Posts 67715
Listening to every heart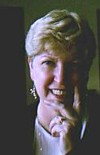 | | |
| --- | --- |
| 0 posted 06-27-99 08:54 AM | |
---
In '88 I took your hand for the final time
and asked Him with soft prayer true
"Take him Lord, he's mine"
So Dad, no more pain for you.

Mom and brother were called away
to answer questions of the physician by phone
I held your hand and softly prayed
then heard a deep voice intone

"he is mine now dear child,
release your father so dear,
My Home is finally his Home now
and you have nothing ever to fear."

Looking towards my father's face
the struggle and pain released from within
a calmness caressed the careworn brow
a man who lived life truly without sin.

Thank you Lord for taking him then
and giving me strength to do the tasks
for the family members who didn't know
that you answered the prayer I asked.

You gave me the strength to make the calls
and to take in the murmurings kind
all in a deep shadow of truth faith
and I thank you for taking "mine."

My father comes to me in my dreams
with your angels silently by his side
usually when I'm at my best in your world
and want to share your realm with him wide.

For where you've put me must be close
to your heaven on earth of which I've heard a toast
and when I walk your carpet fine, and smell the pure clean air
I know that You, your Angels, and my Dad are standing with me there.