Sunshine
Administrator
Member Caelestus
since 06-25-99
Posts 67715
Listening to every heart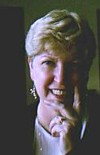 ---
Dear Lord

Lord, it is me, do hear my pleas
I did something so very wrong
But you caught me up before long
And brought me to my knees.

Dear Lord, humble is better, but
I had a great week.
Thank goodness for you
I turned the other cheek.

I thought of telling someone of the great
Things I accomplished today
But then I thought of what you create
And suddenly found I had nothing to say.

And when I do stray, and find a way
To exclaim "look at me"
Suddenly I find as I look around
It's Humble Pie that I see.

You remind me in another's glance
That my good works are not by chance
And I should know you watch from above
And give by your Grace, and from your Love

All that I do and give is a gift from you
And I know they are not my thoughts and deeds alone
So thank you Lord, for the Humble Pie
And know that for my works I will atone.

Amen.