Temptress
Moderator
Member Rara Avis
since 06-15-99
Posts 7276
Mobile, AL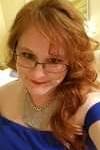 | | |
| --- | --- |
| 0 posted 06-25-99 09:58 PM | |
---
I stir lightly,
As the whisper of your steps,
Reach my tired and lonely ears.
Carefully you come in,
Take of your shoes and change into your bed clothes.
Careful not to disturb me..
But I know you are there.
I face the wall still somewhere between here,
And my own dream realm.
Your kiss softly touches my cheek.
Your fingers brush away the stray hair,
From my face.
For moments, your hand caresses me.
Seeking, finding, then softy rubbing.
A soft moan from me,
But one of rejection again.
Sleep will not let go.
I hear you sigh,
Roll over..
Back to my back.
Before I tread back into the world of slumber,
I shed a sad tear.
For a wasted moment,
Realizing the world has us in its grip too tightly.
And we are far too young for that to happen yet.
Far too hopeful.
Why must we be this exhausted?
I fear we are slowly loosing site of each other.
Shall we search for us again?