Temptress
Moderator
Member Rara Avis
since 06-15-99
Posts 7276
Mobile, AL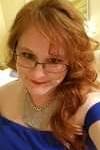 | | |
| --- | --- |
| 0 posted 06-20-99 11:00 PM | |
---
I stand here on the edge of my youth,
Wanting to let go,
But willing myself the same to hold on.
The course of my thoughts are but a mystery.
The purpose for my existence,
Sometimes seems only to meet death.
Though some say I have a dear heart,
I beg to differ because I don't know the half of it.
What is going on when all I can do is nod my head,
In polite thanks as I taught myself to do.
I have not the courage to admit,
Lest I begin to take things for granted,
And seem self absorbed and arrogant.
Some say I am self-centered,
And that I may be at times,
As is everyone else in this eccentric world.
The talk and questions of myself,
Are far from the center of myself.
They are numerous thoughts and insecurities,
Of a shy woman in need of reassurance sometimes.
Self consciuos, sometimes weak..
But loving,passionate, and hopeful.
I live my life and hope to be enriched day by day.
I am young still and have a long road to travel,
And I have my dreams should I get weary.
My kindness should I get thirsty.