Sunshine
Administrator
Member Caelestus
since 06-25-99
Posts 67715
Listening to every heart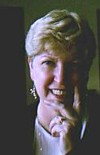 | | |
| --- | --- |
| 0 posted 08-28-2003 01:45 PM | |
---
Ron, you provide SO much for us, for which we are all extremely grateful. However, one small Christmas wish to tack onto your ever-growing list...

in the "Print" option, is there any way that the headers can be removed, saving the graphics, and responses, of course, that the file may be printed "as seen". Normally in print, we only get text, which, of course, if it is done on a graphic, or contains graphics, is "deleted" or blank. If we print directly from the page, we have all of the banners and tags and such.

Is that a possibility? And if so...is it something that could be incorporated down the line? [Insert one begging smilie in here].

Thank you Ron, for putting this on your list of things to consider. I know there's a lot of hammering and construction going on for the next updated version of PiP, but hadn't seen this request before, so thought I'd jump in before you were done.



[This message has been edited by Sunshine (08-28-2003 01:46 PM).]