Sunshine
Administrator
Member Caelestus
since 06-25-99
Posts 67715
Listening to every heart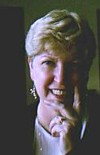 ---
I'm probably off the wall. Heaven knows...

anyway, toward the middle of the day, or late in the day, opening up Today's Topics takes forever. So I usually don't implement that feature.

In simplifying clicks, would it be possible for the main banner at the top to have pop downs so instead of click to the "Main Forum" or "Discussion", I can point and a popdown window of the various places I want to be would scroll down, then I can only click once and go directly to Open Forum #16 or Announcements instead of getting there in two clicks?

Does this make sense?