Seymour Tabin
Member Empyrean
since 07-07-99
Posts 32119
Tamarac Fla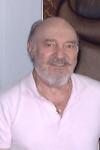 | | |
| --- | --- |
| 0 posted 09-29-1999 08:35 PM | |
---
Nostalgia
My nose pressed against the glass,
Eyes upon a weather mass.
The angry clouds raced on high,
The snow flew, like insects fly.

Flakes disappeared on the road,
Gobbled, like the tongue of a toad.
And I was sad, a little sick,
I wanted so the snow to stick.

Then I saw a patch of white,
Heaven exploded on that sight.
I left the comfort of my room
And straight into the cellars gloom.

There she rested against the wall,
Covered with dust, a little small,
With a broom stick side fixed last year,
By my landlord the engineer.

Snow queen, my love in red and green
And printed, large and to be seen,
She was the fastest and the best,
Printed, Snow Queen my shield and crest.

I'd run the sled with flying feet
And belly-whop the icing street,
Steering the queen with toe and bar,
Whizzing by, like a shooting star.

Those were the days that stay my mind.
Those were the days I think most kind.
Of all the memory's to this date,
The clearest are, when I was eight.