azblond
Senior Member
since 07-01-99
Posts 651
The Steamy Desert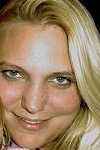 | | |
| --- | --- |
| 0 posted 09-26-1999 12:58 AM | |
---


She never looked deep in his eyes
Yet she had no doubt they were true
The windows to his endless soul
She never saw, she never knew
She lived to hear his gentle words
They spoke directly to her heart
She dreamed they would have forever bliss
She knew once together they would not part
Yet she never saw his gentle smile
Though she did not doubt it beamed for her
The thought of it filled her with joy
She never before had felt so secure
She never gazed at him while he slept
His breathing she memorized as her own
The wonders he brought to her life
Were like no other she'd ever known
She longed to feel his skin touch hers
His hands gentle, warm, and strong
She had no doubt they were a perfect fit
She held them as thought they were her own
She never saw his love shine
Worn with pride upon his face
But she held no doubt inside her heart
That love had brought them to this place
She did not see the ocean blue
When they first walked upon the shore
She did not see the birds fly by
When they promised to love, cherish, and adore
His strong arms carried her that day
To the paradise they made together
The start of a life full of hope
She knew they would be happy forever.
She did not see…she felt with her heart
For sight was a gift she lived without
Yet by not viewing with her eyes,
She allowed her heart…no doubt.


------------------
Let my words fall first upon deaf ears before a closed mind...