Seymour Tabin
Member Empyrean
since 07-07-99
Posts 32119
Tamarac Fla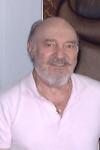 | | |
| --- | --- |
| 0 posted 09-21-1999 10:59 AM | |
---
The blade in the stone.

Life is a blade within a stone.
And you must extract it alone.

Tic-toc swings a pendulums fear
As acids of night veer to morn.
The sun leaps, in riotous cheer.
The guillotine cuts, eye and ear.

A basket catches, null and void
Dead to the senses of the mourn.
And the neck runs red anthropoid
Draining all the symbols of Freud.

There rubs the rue of waking dew
Born again to sentient dawn.
Firming the passions fragile coup
Saving the lucid of the new.

Reaching out to a pure mystique
Fashioned in fantasies adorn.
Nothing total nor was it week
The touch of my hand on her cheek.

Like the morning gathers dew.
So does our love gather new.