Seymour Tabin
Member Empyrean
since 07-07-99
Posts 32119
Tamarac Fla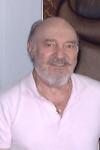 | | |
| --- | --- |
| 0 posted 09-21-1999 10:28 AM | |
---
When in Church I sing

I need no dowser rod to bend
The prods of a vile up chuck vend.
Nor an offshore crass underscore
Or a wise ass lectors guffaw.

Of all the poor unthought ideas
After skoaling drinks with my peers
Was sit me down a breakfast scene
With the cocci of Halloween.

The pate was formed by shoestring fries
And just below two hollow eyes.
The bacon strips smiled wicked lips.
And catsup oozed red bloody drips.

I up and fled the havoc scene
Before my stomach upped to clean.
Gave the skoals to the bathroom bowl.
With some promise about my soul?

Today I wit this dally's fling.
While I sit in church and sing.